Wellington
Wellington properties are unlike any other real estate in this part of South Florida. The Village of Wellington itself is an utterly unique and charming place to live. As recently as 1951, what is now the Village of Wellington was merely swampland in the middle of Palm Beach County. By the early 1970s, Wellington was a tiny suburb of West Palm Beach, where people lived mainly as commuters to the big city. There were only a few shopping centers and restaurants, and the area was relatively quiet. Today, Wellington thrives as a community based upon the values of being a little bit different, but still being a lovely place to live.
Living in Wellington | Wellington Homes for Sale | Wellington Schools | Wellington Map | History of Wellington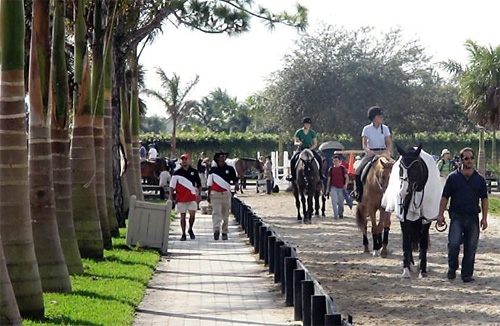 Wellington is unlike any other affluent South Florida town; it is widely known as the winter equestrian capital of the world. Wellington hosts a 3-month horse show held annually from January to March; it is considered the ultimate destination for a number of equestrian disciplines, including show jumping, dressage and polo. Major events are held on Wellington polo and show grounds for 40 out of 52 weeks each year, including such notable events as the USPA Piaget Gold Club polo match, the Nespresso US Polo Open, The Winter Equestrian Festival (WEF) and the Global Dressage Festival.
The Village of Wellington has come a long way from its swampy beginnings as a backwards farm town that stood in the shadow of glamorous Palm Beach. Nowadays, Wellington is home and yearly vacation spot to elite international socialites, celebrities, business personalities and moguls all who share a common interest in equestrian pursuits. Residents can enjoy simplified living in modern, well-appointed apartment homes, or they can have a horse stable of their own on grassy acres of land in a sprawling estate home.
Residents of Wellington have a number of amenities in their own community, including a newly renovated public library, multiple recreation centers, public parks and athletic fields, quality A-rated schools and gorgeous neighborhoods with plenty of land. The Mall at Wellington Green is a central hub for well-known restaurants, department stores, bars and specialty shops. West Palm Beach borders Wellington, making it easy to catch a fun concert at the Cruzan Amphitheater or take a drive to the sandy beaches just east of the Intracoastal Waterway.
Wellington real estate is as unique as this charming town. Well known for its Wellington luxury homes, the town boasts a handful of communities with homes ranging up to and over $1 million in price. Banyan Estates, for example, features Wellington estate homes that offer lake and golf course views, with prices ranging to over $1 million. For the truly elite, Palm Beach Polo Golf and Country Club offers the height of Wellington luxury real estate with world-class resort-style living. This community features two championship golf courses, a heated Olympic-size pool, a top-rated Equestrian Club, four croquet lawns and nearly a dozen tennis courts. Some of the beautifully designed key-west style luxury homes in the Wellington Aero Club offer owners their own private hangar, other are tie-down home sites. Residents, who chose to reside on the runway, enjoy the benefits of flying straight to their front door. If you are looking for private and spacious Wellington estates with amenities you can't touch anywhere else, this is the place.
Wellington is well-known for its luxury estate homes. If you are in the market for a luxury home in an elite community, check out our Wellington properties for sale today.
Wellington High School
Type: Public
Level: High

College Assist
Type: Private
Level: High

New Horizons Elementary School
Type: Public
Level: Elementary, Preschool

Wellington Elementary School
Type: Public
Level: Elementary, Preschool

Elbridge Gale Elementary School
Type: Public
Level: Elementary, Preschool

Score At The Top Learning Center
Type: Private, Special Program Emphasis
Level: Elementary, High, Middle
Forest Trail Academy
Type: Private
Level: Elementary, High, Middle

St David's-in-the Pines Episcopal School
Type: Private
Level: Preschool, Elementary

Wellington Christian School
Type: Private
Level: Preschool, High, Elementary, Middle

Emerald Cove Middle School
Type: Public
Level: Middle

Wellington Landings Middle School
Type: Public
Level: Middle

Equestrian Trails Elementary School
Type: Public
Level: Elementary
Wellington, one of the most successfully crafted communities in Palm Beach County, is the premier South Florida community known for its abundant parks, quality schools, attractive neighborhoods and equestrian interests.
In 1951, following the recommendations of Arthur William Glisson (known to all in Wellington as "Bink" Glisson), Charles Oliver Wellington assembled and purchased several tracts of land that would later become known as Wellington. Mr. Wellington was a very successful accountant and investor from New York. The area he purchased frequently flooded with water. That really is not surprising because Wellington's southwestern boundary is the Florida Everglades. Shortly following the land purchases, the State of Florida passed legislation creating the Acme Drainage District.
The initial purpose of the District, created in 1953, was to provide for drainage and flood control on the assembled acreage and to make the property suitable for agriculture. This was a huge undertaking as the total size of the tract was over 16,000 acres. This drastically transformed the landscape from waterlogged land to fertile farmland. Portions of the land were sold or leased to farmers for cultivation. Many crops were grown, including strawberries – 2,000 acres to be exact. In fact, the area that is known as Wellington was once the world's largest strawberry patch.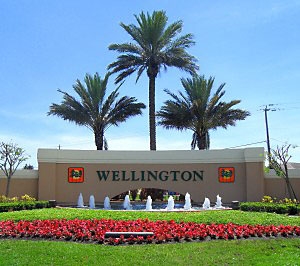 Bink Glisson was hired by Charles Oliver Wellington to oversee the property that was soon to become known as the Flying Cow (Charles Oliver Wellington) Ranch. Bink also served as the Acme Drainage District's first employee and general manager. In many respects, Bink was the first rock to anchor what was soon (44 years later) to become Wellington. He served the District in many capacities for 40 years and retired in 1993 with a big sendoff attended by hundreds of his friends and neighbors.
Mr. Wellington was the first Chairman of the Acme Drainage District and served until his death in 1959. Oddly enough, it was probably Mr. Wellington's death which led to the decision to develop portions of the property to raise capital to pay for estate taxes. Wellington's son, Roger Wellington, carried on as the District Chairman until he retired in 1984. Major construction did not begin until the first large tract of land, 7,400 acres, was sold to the Investment Corporation of Florida (ICOF) in 1971 for a cost of approximately $800 per acre. In 1972, a joint venture between ICOF and Alcoa Aluminum was formed to begin the construction of a new community. Shortly after construction began, hundreds of homes began selling. In 1976, Alcoa decided to sell their interest back to ICOF. Two years later, the remaining properties of ICOF were sold to Gould Florida, a division of the large electronics corporation Gould, Inc. William Yilvisaker, the Chairman of Gould, was an avid polo player. It was his contribution that produced the Palm Beach Polo Golf and Country Club.
In 1985, Gould sold its remaining acreage to Corepoint, Inc. Corepoint was than succeeded by Lennar Homes. Since that time, Lennar also purchased the remaining 500 lots in Bink's Forest. In another distressed real estate sale, Glenn Straub purchased the Palm Beach Polo Golf and Country Club in 1993.
The next step in the evolution of Wellington was probably its most important for the future. In November 1995, a determined group of Wellington residents succeeded in a referendum to establish Wellington as an independent municipality. Wellington was officially born on December 31, 1995 (to qualify for certain Florida State funds it was necessary that the Village be chartered in 1995 or millions of dollars in State funds would have been lost). Official operations commenced on March 28, 1996. On December 31, 2010, Wellington's 15th anniversary as a municipality, Wellington's City Hall officially opened.
In 1953, fewer than 100 individuals resided in the area. Today, Wellington is an affluent and thriving community that is willing to stake its future on being different. Wellington is recognized as the winter equestrian capital of the world. The community offers tremendous diversity from apartments to lavish homes where residents have private airplane hangars. Most importantly, however, Wellington is a Great Hometown.